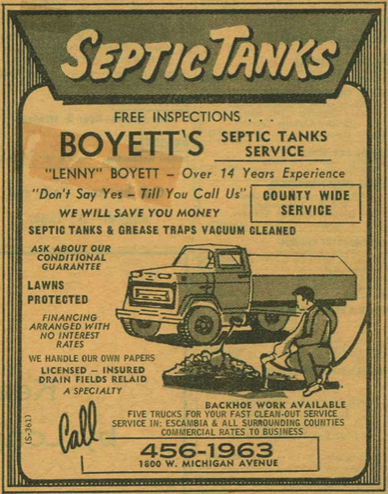 Professionalism and Thoughtfulness are our watchwords in the Boyett family. We try to think of everything for our customers and are extremely flexible. As business owners ourselves; we understand that alleviating as many of the details as possible, gives you time to spend on more demanding aspects of your daily operations.

A Family History of Superior Service
It seems like our family was destined to do this type of work. It is what we have done our entire life. Leonard Boyett started in the septic business in 1957 as a family business and we have continued ever since. Our children plan to continue forward with it (after and if we ever retire). We provide an essential service to businesses, organizations and homeowners in our area. We learned a great deal about customer service from the elder Leonard and that focus continues to this day with Lynn and our children.
While septic tank and grease trap waste isn't a pleasant topic for most people, it is essential. We do not want our customers having to worry about maintaining their system; they should only have to call us and rest assured that we will handle to for them. If they want to fully understand how their system works, we are more than happy to educate them on the workings of it all. Or we can simply handle it for them with minimal input from you.
Always Improving
We are motivated by a desire to continue and improve our services and products. This means continued business success and service to our customers by staying on top of the latest products, technology and trends in the fields of portable restroom facilities and septic tank systems. We want to provide our customers with ease of use and confidence in using us for all of their needs. Our customers should be able to count on us without wondering if we will follow through. It should be so easy for them.
They shouldn't have to wonder if they, or their system is in compliance, or if their portable facilities are adequate, clean and sanitary. They should be able to realize that our service can be counted on to be dependable and as promised. No customer should have to call us about a problem with their service. Our customers should be able to call us and not sweat the details. It should be so easy for them it is ridiculous.
Call the Family of Professionals at Boyett's!
If you're ready to see the difference a family of committed professionals makes, give us a call. We look forward to counting you as a satisfied customer!