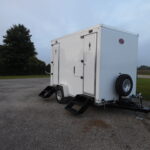 With a 12' box length, this trailer offers more room and capacity than any of our other 2-room trailers without any sacrifice of quality and convenience.
---
Art 2-Room Trailer Features
Pedal flush toilets with sink, trash can, soap, toilet paper, and paper towel dispensers in each room.
This trailer has an electric wall heater in each room for cold-weather comfort.
A roof-mounted A/C unit ensures comfort in warm weather.
Occupied/vacant lights above both doors and LED lights for safety as well as solid steel folding steps and handrails.
460-gallon waste tank
105-gallon fresh water tank and water pump for when a city hookup or well hookup is NOT AVAILABLE
Stereo system with radio and Bluetooth is onboard.
Water heater on board for when hot water is needed and requires its own 20-amp plug on a separate breaker from the main trailer plug.
50 feet of water hose is included with rental.
50 feet of power cord is included with rental.
Requirements
Standard 20-AMP circuit is required for running lights, A/C, and/or wall heaters
• Includes standard 20amp residential plug adapter as well as the ability to plug into a 30-amp RV plug.
• This trailer ONLY WORKS WITH A 110v/120v circuit and WILL NOT WORK ON A
220/240 circuit.