When a permanent restroom isn't available or practical, call Boyett's. We'll deliver clean and sanitary portables to your location with the comfort and convenience you expect. Serving our customer's needs at construction sites, parks and recreational areas, large festivals and small events, Boyett's has provided quality rental toilets and portables with unmatched customer service since 1957.
Portable Toilets for Construction Sites on the Ground or in the Air
In times of need, Boyett's delivers. We offer a range of construction site toilets that offer privacy, maneuverability, and dependability. Take care of your workers by letting us take care of their sanitation needs.
Our rental options include pumping, disinfecting, wipe-down and restocking services. Whether you need once a week service, daily service or anything in between, Boyett's has you covered.
Hoist and High-Rise Unit Portables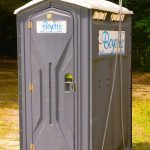 Not all construction takes place on the ground! Sometimes, nature calls while working on high-rise buildings or upper floor renovations, but don't worry, Boyett's can help. Our hoist unit portables are equipped with a special hoisting mechanism for easy delivery and placement on multi-story construction sites.
Our high-rise toilets can go where other restrooms simply cannot. These uniquely designed restrooms can be moved through halls, doorways and freight elevators, providing sanitation services to workers on upper floors during construction and renovation jobs.
Unsure of the proper number of portable toilets needed on your job site? Give us a call at 850.944.5536 and we can help you decide the best options for your situation.
Fresh and Wastewater Holding Tanks for Office Trailers
Boyett's offers fresh water and wastewater holding tanks for office trailers on construction sites or festival grounds. A variety of sizes are available depending on your needs and our team can service these tanks just as they would our portables.
Festivals, Concerts, Sporting Events and Fairs — Boyett's Will be There
Our mobile restroom units provide clean and private sanitation options for large crowds. Boyett's attendees are available to provide assistance with refilling bathroom amenities, servicing and cleaning our portables. Our top-notch service assures our customers that we will be there for them no matter what they need.
ADA-Compliant Portable Toilets
Boyett's offers wheelchair and handicap accessible restrooms for your event. Not only do they meet the needs of your patrons, they fulfill the requirements set by the Americans with Disabilities Act. The spacious interiors of our portables are also great for parents who must accompany children to the restroom.
How many portable toilets do I need for my event?

The number of toilets your event requires depends on a number of factors. The location, type of event, number of attendees and even the weather can determine how many toilets will be needed. Contact our customer service specialists and we can help you determine what is best for event!
When Disaster Strikes, will You be Prepared?
Living along the Gulf Coast, we all know the risks of severe weather. When disaster strikes, you can count on Boyett's to provide portable restrooms and sanitation services to affected areas. We're have contracts with a number of medical facilities, government agencies and local businesses to provide services at a moment's notice. Do you have an emergency plan in place that covers your sanitation needs?
Contact us today to discuss your options!