Boyett's handles more than just septic tanks. Our trained technicians are experienced in pumping laundry tanks and lift stations at health care facilities, hotels, schools and more. We also pump holding tanks at ports of call, marinas and waterfront homes.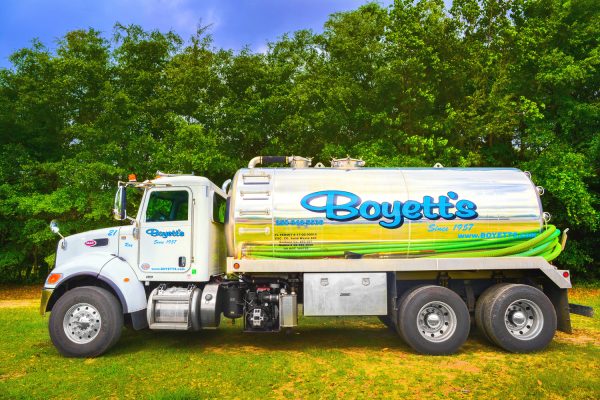 We provide service for residential, commercial and industrial facilities throughout the Gulf Coast — there is no project too big or too small for the team at Boyett's.
Contact us to learn how we can help you!
What is a Lift Station, and Why Does it Need Pumping Services?
Lift stations are used to move wastewater from lower elevations to higher elevations. Lift stations are often used to provide cost-effective alternatives to other pumping options. Pumping or lifting the sewage over a ridge allows gravity to take over and help the waste flow to a sewage treatment plant or on-site treatment system.
We service a number of lift stations in Escambia, Santa Rosa, and Okaloosa counties in Florida. Give us a call at 850-944-5536 to speak with our knowledgeable team!
Boyett's Pumps Holding Tanks and Disposes of Sewage Professionally and Legally 
Our team pumps sewage from the holding tanks of planes, boats, trucks, recreational vehicles, trains and more. After pumping, we dispose of all wastewater properly at certified dump stations. Are you looking for pumping services in the Panhandle? Contact Boyett's for a quote today!
We Pump Holding Tanks at U.S. Ports of Call and Military Bases
Our employees are professional and uniformed making them easy to identify, and several carry TWIC cards for access to ports and military bases. Access to these facilities allows us to pump holding tanks in restricted areas without further delays.
Call Boyett's for more information or to schedule your pumping service!